Our Institute was established in 1987.
Areas of research
The basic directions of scientific researches of the Institute, approved by the decree Presidium of NAS of Ukraine №110 from 21.05.2014
- the synthesis of potentially bioactive compounds and the study of the relationship between structure and activity;
- Chemical models of biological processes, synthesis and study of biological properties of new bioregulators for use in medicine and agriculture;
- development of scientific bases of synthesis and technology of production of practically important products and materials from hydrocarbon raw materials.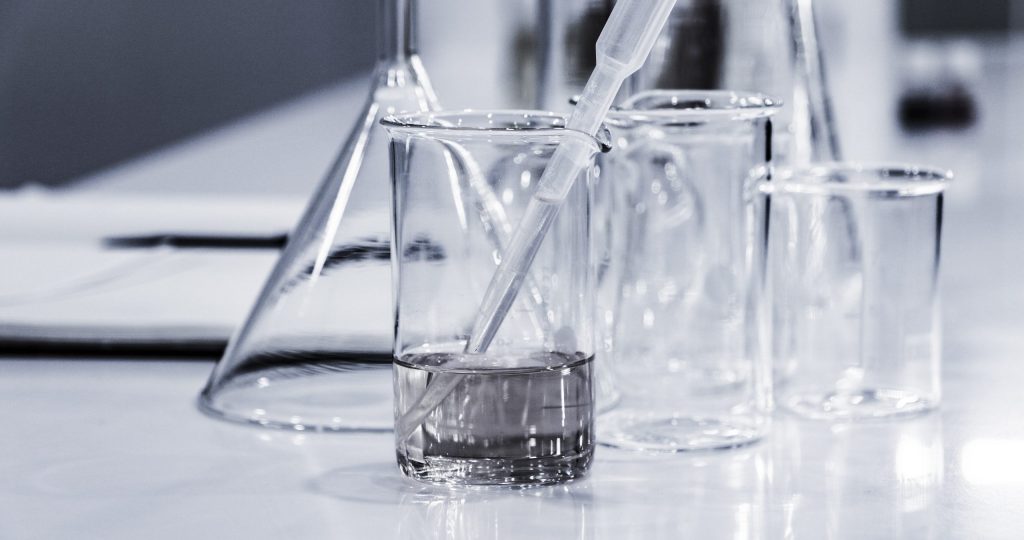 Overcoming environmental problems
Significant place in the work of the Institute is occupied by research aimed at studying and solving a number of acute environmental problems, in particular:
- purification of highly toxic filtration waters of solid waste dumps;
- as an alternative raw material for the production of practically useful substances and bioenergy conversion
- sludge dewatering and wastewater treatment at the Bortnitsky aeration station
- waste and ash residue thermal power stations to produce high-purity silica.
Library
The Scientific Library of the Institute has more than 70 thousand volumes. Since 1995 a scientific collection has been published - "Catalysis and petrochemistry".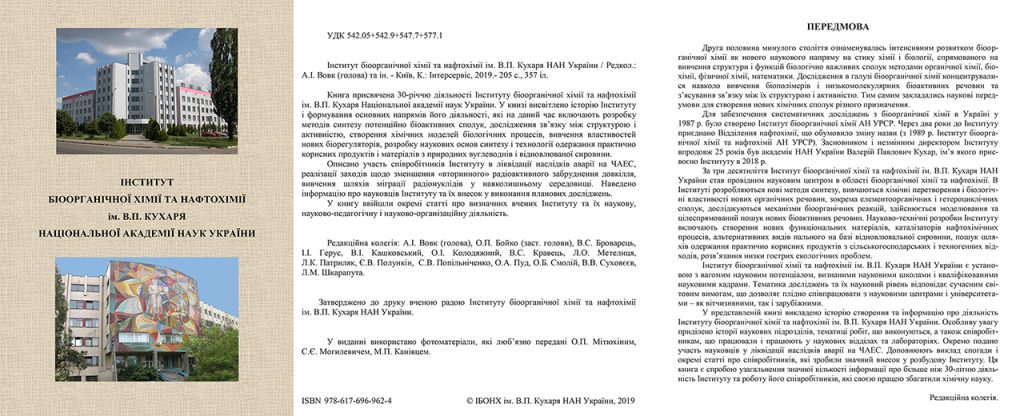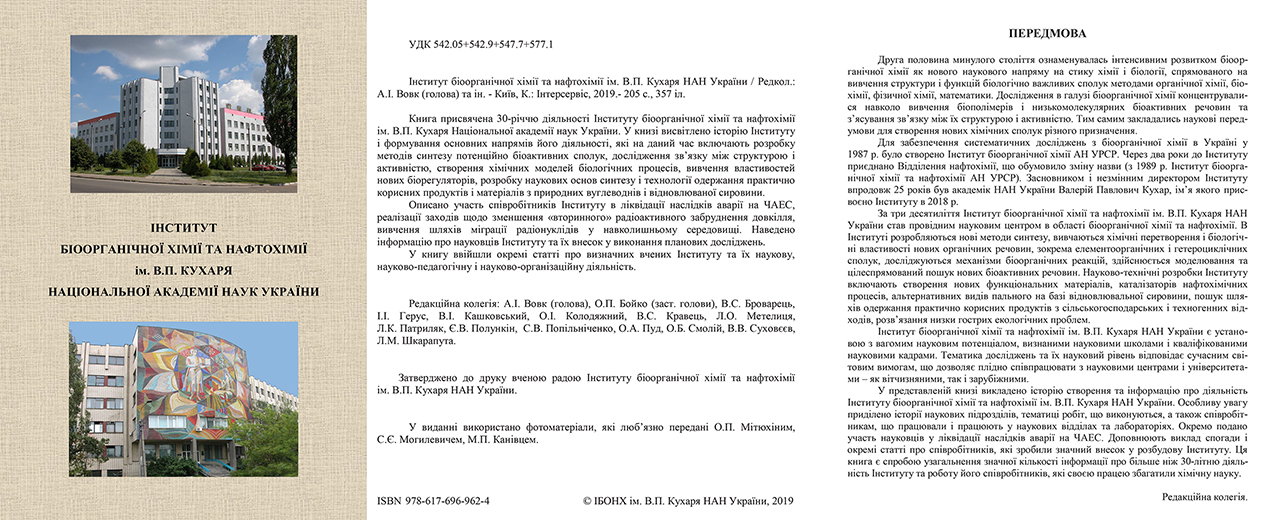 Book
is dedicated to the 30th anniversary of the Institute. V.P. Kukhar of NAS of Ukraine
Training of scientific personnel
The Institute prepares scientific personnel of higher qualification through postgraduate studies with a separation and in-vitro production in the specialty 102 "Chemistry" (specializations: bioorganic chemistry; petrochemistry and carbon chemistry) in accordance with the obtained License for conducting educational activities in the field of higher education in third (educational scientific) level (the order of the Ministry of Education and Science of Ukraine from 26.05.2017 №111 l), there is a specialized scientific council D.26.220.01, which carries out the certification of scientific personnel of higher qualification and accepts for the consideration and holds the defense of the dissertation this for the degree of Doctor (candidate) chemical sciences.
Cooperation with universities and industry
We actively cooperate with high school, many scientific organizations of the country and industrial enterprises.
The Institute has three divisions, established jointly with the institutions of the Ministry of Education and Science of Ukraine:
laboratory of heterocyclic metal complexes (jointly with M. Gogol University of Nizhyn);
branch of the Department of Chemistry and Chemical Technology of the National Aviation University;
branch of the Department of Technology of Inorganic Substances and General Chemical Technology of the National Technical University of Ukraine "Igor Sikorsky Kyiv Polytechnic Institute".
The main task of the joint units is to attract students and undergraduates to scientific work, to prepare scientific change. The links of the Institute's scientists with foreign colleagues are expanding and strengthening. We participate in a number of international scientific projects, work on contracts with foreign firms.
We are open to new spheres of cooperation and are confident that our joint activity will facilitate the acquisition of new knowledge and serve the benefit of man.
Media about our Institute
Popular science film (two parts) about the activity of the Institute of Bioorganic Chemistry and Petrochemistry VP Kukhar of NAS of Ukraine (in Ukrainian)